Notable Features
Construction waste reduction/recycling program
Reduced construction waste due to use of factory manufactured precast concrete elements
Application of large panel steel formwork
Use of drywall for the internal partitions
Use of semi-precast slab
Use of precast facade
Use of precast staircase
Use of tubular scaffolding
Use of spray plastering
Use of gondola to apply external finishes
Reuse of steel safety guard
Reuse of steel hoarding

Basic Information
Location: Tseung Kwan O Area 74
Building Type: Residential
Contract Period: December 98 – December 2000
Client: The Hong Kong Housing Authority
Main Contractor: Dragages at Travaux Publics
Contract Sum: HK$ 1,100 million

Overview
The Tseung Kwan O Area 74 Phase 4 was a residential building project and the following major items were executed under this contract:
Six 40 storeys Concord Blocks (Option 1)
One 7 storeys carport
Associated external works

Plastering and Finishing

The speed of applying spray plaster is faster than traditional cement sand plaster. Although the cost of spray plastering is double as much as traditional plastering, it is considered as defective free product which provide a very smooth and accurate surface.

Gondola was used to apply external finishes.

Waste Management
Source Separation
Source Separation was considered to be more feasible than Centralized Separation. The waste was separated at the respective floors and then transported through refuse chute to the ground floor at appointed time. In this case, situation of half-full skip might be occurred. However, there was problem to install another refuse chute (one for inert waste and one for non-inert waste) due to the ground floor had been fully occupied with materials such as reinforced bars, precast elements, etc.

There was no extra space for another outlet for refuse chute. In addition, installation of extra refuse chute inside the building required extra opening on each floor.
Material Control
The subcontractors were generally required to supply both material and labour so that they would reduce the wastage of material as possible as they could.
For the materials such as instant mortar, dry wall and grano provided by the main contractor, a mock up flat was completed first and this served as a control for other flats. The material wastage was generally 3%.
Reusable materials
The steel hoarding was reused.
Steel tubular scaffolding was used to construct the carport. This saved the waste of bamboo scaffolding. However, the cost of tubular scaffolding is normally three times the cost of bamboo scaffolding. For this site, the subcontractor agreed to supply and install tubular scaffolding at 50% higher for promotion
At each opening of lift shaft, reusable steel safety guard instead of timber boarding was used. This reduced timber waste.

At each staircase, steel tubes and chains were used as safety guard. This also reduced timber waste.

Contact of Contractor
Dragages at Travaux Publics (HK) Ltd.
11/F, Island Place Tower, 510 King's Road
North Point, Hong Kong
Tel: (852) 2511 4261
Fax: (852) 2588 1979
Wall System
The Housing Authority specified to use large panel steel formwork for the construction of load-bearing walls. This saved time in erecting, striking and re-erecting the timber formwork as the steel formwork is handled as one unit. One set of formwork could be repetitively used throughout the block.
However, it took 6 days to complete one floor for the tower crane was fully loaded to transport materials. With traditional timber formwork, a 4 day floor cycle could be achieved. Besides, the cost of steel formwork was 25% higher than the cost of timber formwork.

Dry Wall
'Ytong' dry wall system was used to form the partitions of the flat. Ytong Autoclaved Aerated Concrete (AAC) is manufactured from sand, lime, PFA, cement, water and aluminum powder. It is composed of calcium silicate hydrates and many small pores. The accuracy of Ytong size can easily be controlled because the size of the product will not vary after casting. Also, the shrinkage of Ytong product is small which is only up to 0.055%. In addition, this product is very light – the density of which ranges from 400-700kg/m. It can be cut into different size according to dimension requirement by simple equipment such as hand saw or electric cutter.
It has the advantage of easy assembly or disassembly to give a flexible layout to the flat without any concreting process which will produce waste.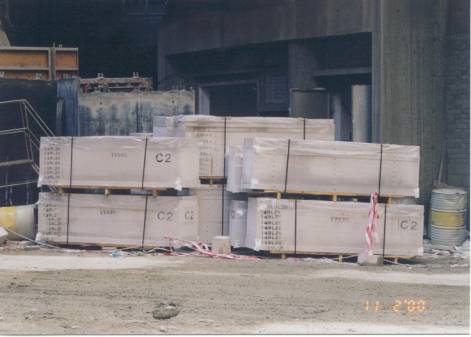 Slab System
Semi-precast slab was adopted to be the slab of each floor. 70mm thick precast slab was used to serve as the formwork for the 80mm in-situ concrete layer, thus forming a 150mm thick concrete floor. This saved the time in erecting and striking the timber formwork as well as forming a smooth ceiling finishes for the floor below.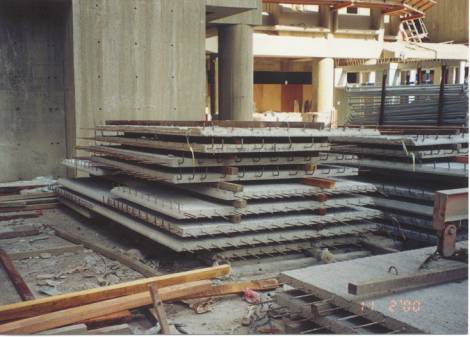 However, the precast slab must be handled and transported with care to prevent cracking of the slab.

Precast Facade
The precast facade was off-site prefabricated and transported to the site. It was stored at the ground level and was hanged to the required floor by tower crane.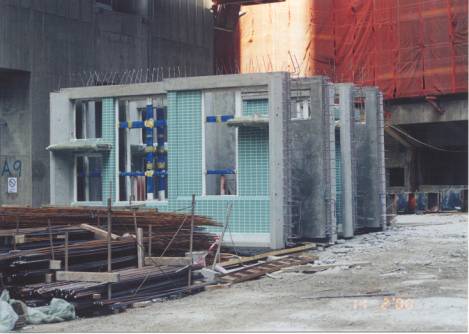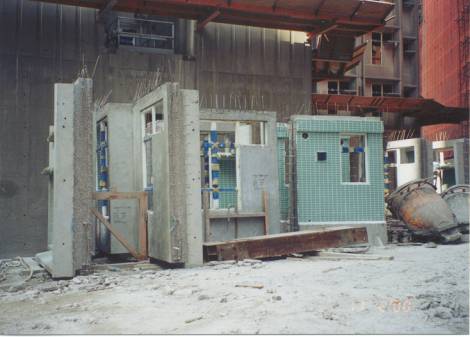 It is cost effective to use precast facade in mass production.

Precast Staircase
Another feature is the precast staircase which was constructed in 8 risers.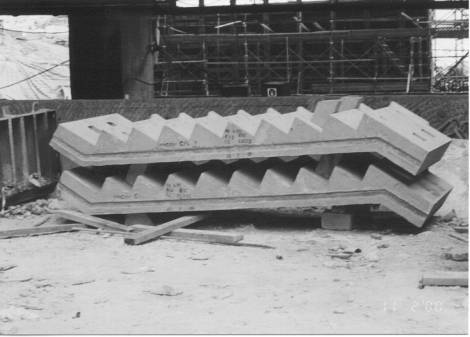 Tubular Scaffolding
Tubular scaffolding was used for constructing the carport