Notable Features
Reduced construction waste due to use of factory manufactured precast concrete elements
Application of large panel steel formwork
Use of semi-precast slab
Use of aluminium formwork for the construction of floor slab
Use of precast facade
Use of precast kitchen facade
Use of precast bathroom
Use of precast staircase
Use of precast cladding
Use of steel scaffolding

Basic Information
Location: Tseung Kwan O Area 73A
Building Type: Residential
Contract Period: 31/8/2000 – 30/11/2002
Gross Floor Area: 96,440m2
Client: The Hong Kong Housing Authority
Architect: The Hong Kong Housing Department
Structural Engineer: The Hong Kong Housing Department
E & M Consultant: The Hong Kong Housing Department
Quantity Surveyor: The Hong Kong Housing Department
Main Contractor: Yau Lee Construction Co. Ltd.
Contract Sum: HK$ 470 million

Overview
This project consists of two blocks of 41-storey domestic New Harmony 1 Block, one block of 8-storey Standard 30-Classroom Primary School (2000 Edition). The blocks contain 80 No. Type 3B, 880 No. Type 1B, 320 No. Type 2B, and 238 No. Type 1-2/P rental domestic units in 40 domestic upper floors. In addition, one 2-storey Automated Refuse Collection System and Junk Collection Point Compound will serve all residential blocks in Tseung Kwan O Area 73A by being connected to Phases 1, 3 and 4 via chute laid under Estate Road and surface-mounted against retaining wall.

Wall System

Large Panel Formwork is used to construct the structural walls of the Harmony Blocks. It is a typical feature of housing projects. The floor cycle is 6 days (Two days for larger wings and one days for the smaller wings).

Slab System
Semi-precast slab is adopted for the structural floor of the flats. A 70mm precast slab serves as the formwork for a 90mm in-situ concrete layer, thus forming a 160mm thick concrete floor. This saves time in erecting and striking the timber formwork as well as reduces the timber waste.

Aluminium formwork is used to construct the floor slab of the corridor of Harmony Blocks. This is an innovative feature of the project. The cost is even cheaper than that of timber formwork.

Contact of Contractor
Yau Lee Construction Co. Ltd.
10/F, Tower I, Enterprise Square,
No.9 Sheung Yuet Road,
Kowloon Bay, Kowloon, Hong Kong
Tel: (852) 2753 4388
Fax: (852) 2753 4300
Precast Facade
This is also a typical feature of the housing projects. The problem of water leakage with this type of construction is primarily dealt with by the overhanging toe of the whole pre-fab unit which stops water penetration from the horizontal parts. The vertical joint is formed by the built-in of facade into the structure.

Precast Kitchen Facade
Precast kitchen facade with PVC openings for the drain pipes is an innovative feature of the project.

Precast Bathroom
Precast bathroom is also an innovative feature of this project. The bathroom is prefabricated in factory and transported to site as a whole. It is fixed to the building structure with the help of tower crane.

Precast Staircase
Precast staircase is a typical feature of housing projects.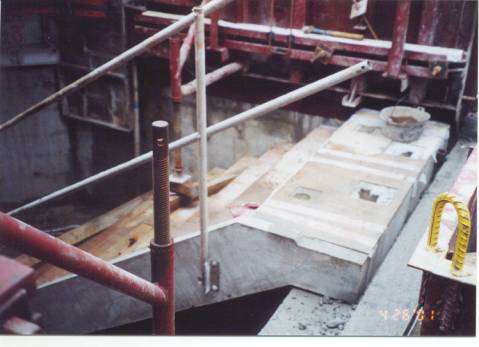 Precast Cladding
Precast cladding is a new construction method for tiling works. The cladding panels are manufactured in the precast factory. The backing of the panels is lightweight concrete and the panels are fixed by holding brackets.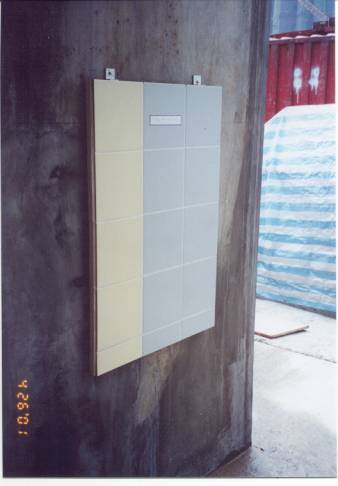 Advantages of the cladding panels:
| | |
| --- | --- |
| | Reduced quantity of skilled labour |
| | Less wastage – wet trades on site such as plastering and tiling are eliminated |
| | Less waste produced |
| | Better quality |
| | Flexible time control – no setting and curing time are needed on site |
| | A clean and safe working environment is achieved |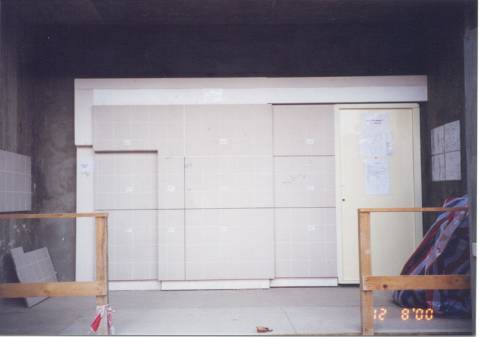 Steel Scaffolding
Steel scaffolding is used to construct the 8-storey school building. This provides a safe working platform and saves the use of bamboo scaffolding, thus reducing waste.